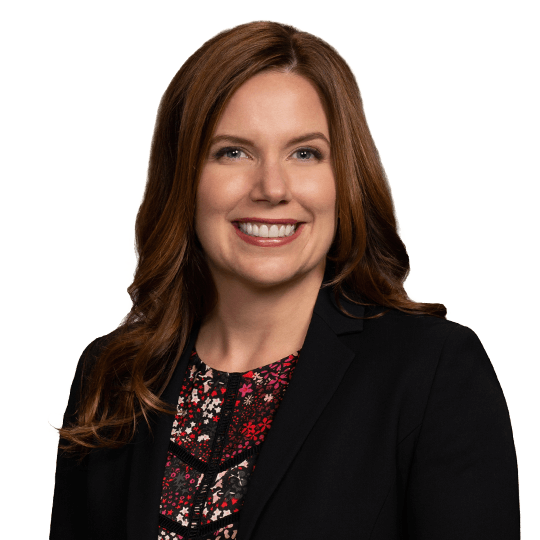 Theresa Wardon Benz
Partner
P. 303.244.1968
|
F. 303.244.1879
Practice Areas
Industries
Education
Northwestern University School of Law

J.D., 2008, magna cum laude
Order of the Coif
Northwestern University Law Review, Senior Articles Editor

Boston College

B.A., 2003, History, summa cum laude, with distinction of Scholar of the College
Phi Beta Kappa

Government Service
Bar and Court Admissions
Colorado
U.S. Supreme Court
U.S. Court of Appeals, 10th Circuit
U.S. Court of Appeals, 7th Circuit
U.S. District Court, D. Colorado
U.S. District Court, N.D. Illinois
Representative Clients
Ford Motor Company
Michelin North America - National Trial Counsel
Skyjack
Whirlpool - National Trial Counsel
Biography
Theresa Wardon Benz represents clients such as Ford, Michelin, and Whirlpool in nationwide high-stakes appeals, litigation, and trials. She is an accomplished appellate practitioner with experience in multiple states and the U.S. Supreme Court, having authored multiple Supreme Court amicus briefs. Prior to joining WTO, Theresa served as an appellate clerk to The Hon. Neil M. Gorsuch, then of the U.S. Tenth Circuit Court of Appeals. In 2017, the American Bar Association named Theresa one of the top 40 young lawyers in America in its annual "On the Rise" list.
Theresa has also played significant roles in trial to help win verdicts in Arizona, Florida, and Ohio. Additionally, she represents asylum seekers, pro bono, fleeing extreme violence in their home countries. She served on the governing board of The Gathering Place, Denver's only daytime shelter for women, children, and transgender individuals experiencing poverty.
Cases
Trials & Litigation
Appellate
Won a precedent-setting victory in an appeal of a medical malpractice case involving the Colorado Health Care Availability Act's collateral source provision and $1 million damages cap.
Ford Motor Co. v. Walker (2022 CO 32) - Argued and won in the Colorado Supreme Court for Ford Motor Co., clarifying Colorado law and affirming that when a defendant appeals a judgment, market-based interest must be applied from the date of the first judgment until satisfaction of the final judgment.
Bd. of Cnty. Comm'rs of Boulder Cnty. v. Crestone Peak Res. Operating LLC, No. 19CA2040 (Colorado Ct. App. 2021) - Won a published opinion for Crestone Peak Resources, protecting strategically important aspects of the company's original $900M investment and affirming the trial court's summary judgment rulings for WTO's client after Boulder County sought to invalidate several of the company's oil and gas leases.
Wurm v. Ford Motor Co., 20-3126 (10th Cir. April 14, 2021) - Won an appeal for Ford in the Tenth Circuit Court of Appeals upholding WTO's trial court victory in a case arising out of a rollover crash and allegations that the vehicle roof was defective.
Argued remotely and won reversal of a $15 million medical malpractice jury verdict in the Colorado Court of Appeals. The court ruled that the Corporate Practice of Medicine Doctrine precluded the plaintiff's claims against WTO's surgery center client.
Led appellate strategy in post-trial motions in an oil and gas industry matter which resulted in settlement prior to appeal.
Briefed the contested issue of what constitutes oil production in an oil and gas industry case before the Colorado Court of Appeals.
Representing a physician in an appeal after an adverse verdict in post-trial motions. The case involves challenges to collateral source rules and application to certain damages caps.
Dukes v. Michelin (4th Dist. Ct. App. Fla. 2019) - Won affirmance for Michelin to preserve a defense verdict WTO won in a nine-week product liability trial in Florida with $80 million to $1.2 billion at stake.
Fox v. Alfini et al., 2018 CO 94 (Colorado Supreme Court) - Drafted a winning amicus brief for the Colorado Defense Lawyers Association in an alleged medical malpractice case against a chiropractor that establishes, for the first time, that a third party's involvement in a conversation between an attorney and a client waives the attorney-client privilege, unless the third party's presence is reasonably necessary to facilitate the communication.
Arjune v. State of New York (U.S. 17-8587) - Drafted and filed an amicus brief to the U.S. Supreme Court, at the request of Sidley Austin and the Northwestern Supreme Court Clinic, in a matter involving immigration issues with dire consequences for the petitioner.
Engaged for amicus briefs by the Colorado Civil Justice League, the Colorado Defense Lawyers Association, and COPIC.
Walker v. Ford Motor Co., 2017 CO 102 - Won a significant victory for Ford Motor Co. in the Colorado Supreme Court. The case reestablishes that the risk-benefit test is the appropriate test for juries to assess whether a product has been defectively designed. The Court also held that a manufacturer could not be negligent if it designed a "reasonably safe" product.
Magill v. Ford Motor Co. (Colo. 2016) - Won a Rule 21 petition (an "extraordinary remedy") for Ford to the Colorado Supreme Court in a case involving general jurisdiction and venue claims. The opinion makes it harder for companies with no connection to Colorado to be sued in the state.
Walker v. Ford Motor Co. (Colo. App. 2015) - Won reversal of a 2013 jury verdict against Ford Motor Co. in a case that alleged strict liability and negligence relating to a rear-end collision in a 1998 Ford Explorer. The Court of Appeals concluded that the application of consumer expectation as a standalone test in Colorado's pattern jury instructions does not comply with Colorado law as established by the Colorado Supreme Court in Camacho v. Honda Motor Co. (1987).
Served as appellate monitoring counsel to a national food distributor in a tractor-trailer accident trial in South Carolina.
Pro Bono
Successfully appealed a decision by the Office of the Inspector General, Department of Health and Human Services, to impose on WTO's pro bono client, a Navy nurse and corpsman, a mandatory five-year exclusion from working in any federally funded healthcare program, which jeopardized her Navy service. WTO showed why the decision was not warranted or authorized under current statutes. The Inspector General withdrew the exclusion, dropping the case and allowing our client to return to military service.
Negotiated access rights as part of an entitlement claim in a pro bono effort for more than two dozen families and landowners in matters relating to a large tract of land originally administered under a land grant dating back to Spanish colonial rule in southern Colorado.
Represent asylum seekers fleeing extreme domestic violence in their home countries.
Publications & Speaking Engagements
Book Chapters
Other Articles/Presentations
"Litigation Financing: Balancing Access with Fairness,"Co-Author, 13 J. Tort Law 2, (November 2020).

"Colorado chapter of DRI's," Co-Author, Compendium on Warnings, Instructions and Recalls, (February 2019).

Colorado Civil Claims: Elements, Defenses and Sample Pleadings, Co-Authored, 1st ed, Chapters 33-36, CLE in Colo. Inc., (2019).

"Emerging Doctrines of Jurisdiction and Their Impact on Automotive Product Liability Litigation: The Aftermath of Bristol-Myers Squibb and BNSF Railway," presented at ACI's Automotive Product Liability Litigation Forum in Chicago, (July 19, 2018).

"Making Your Message Resonate with the Jury," presented at the Colorado Bar Association CLE, (Feb. 21, 2017).
Legal Memberships, Activities, and Honors
Denver Bar Association
Richard Marden Davis Award, 2020
Benchmark Litigation
Local Litigation Star, 2020-2022
40 & Under National Star, 2019
40 & Under Hot List, 2017-2018, 2020-2022
Colorado Super Lawyers
Super Lawyers, Civil Litigation: Defense, 2022
Rising Stars, Civil Litigation Defense, 2012-2021
American Bar Association's "On the Rise" 2017
Denver Business Journal
40 Under 40, 2016
Law Week Colorado
Top Litigators, 2016
Up-and-Coming Lawyers, 2012
5280 Magazine
Top Lawyer
Appellate, 2023
Judge William E. Doyle American Inn of Court
Wheeler Trigg O'Donnell Recruiting Committee
Member
Defense Research Institute
Community Memberships, Activities, and Honors
The Gathering Place
Board of Directors, 2012-2018
Law School . . . Yes We Can
Mentor
Personal Interests
Running, hiking, skiing, dance, and international travel