Press Releases
WTO Associates Carrie Hobbs and Nora Ali Selected for Leadership Council on Legal Diversity Programs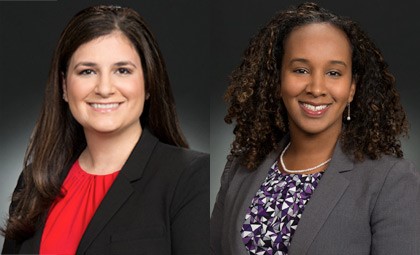 WTO Associates Carrie Hobbs and Nora Ali

Denver: Wheeler Trigg O'Donnell LLP (WTO) Associates Carrie Hobbs and Nora Ali have been selected as members of the 2020 class of two unique training programs sponsored by the Leadership Council on Legal Diversity (LCLD).
Carrie Hobbs is enrolled in the landmark LCLD Fellows Program designed to identify, train, and advance the next generation of leaders of the legal profession. The program connects high-potential attorneys with preeminent legal industry leaders for a year-long, multi-tiered professional development series. Fellows training is devoted to in-depth relationship-building and extensive contact with top LCLD leaders and the best teachers in the business–general counsel and managing partners from leading organizations. Carrie joined WTO in 2017 and focuses her practice on complex commercial litigation for sophisticated companies. She earned her JD from Seattle University School of Law in 2012.
Nora Ali will join the LCLD Pathfinder Program developed for diverse, high-potential, early-career attorneys. This program provides select attorneys with practical tools to build relationships, develop foundational leadership skills, and understand and create career development strategies. Pathfinders learn from legal industry experts in a variety of fields. Nora joined WTO in 2017. She helps clients implement litigation and trial strategies in complex commercial, medical malpractice, and product liability matters. Nora obtained her JD from Cornell University School of Law in 2015.
"Carrie and Nora are ideally suited to join these up-and-coming attorneys," said WTO Co-Managing Partner Michael Williams. "They are talented lawyers and leaders in their own right, and the experiences they gain through LCLD will help them build their practices, advance their careers, and better serve WTO's clients."
Founded in 2009, LCLD is a growing organization of more than 320 corporate chief legal officers and law firm managing partners who are personally committed to creating a more diverse and inclusive legal profession. The LCLD Fellows Program has trained more than 1,600 mid-career attorneys since 2011.
Wheeler Trigg O'Donnell LLP joined the Leadership Council on Legal Diversity in 2019. For more information, visit www.lcldnet.org
Wheeler Trigg O'Donnell lawyers have taken more than 1,300 trials, arbitrations, and appeals to verdict, award, or opinion in 45 states and Washington, D.C., with exceptional results for our clients. Established in 1998, WTO currently numbers more than 110 lawyers. The firm represents sophisticated clients in high-stakes civil trials, appeals, and related litigation ranging from complex commercial to class actions to multidistrict litigation.