Press Releases
Theresa Wardon Benz Honored With 2019 Davis Award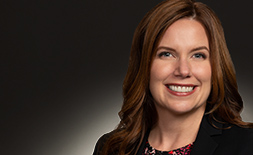 Theresa Wardon Benz
DENVER: Wheeler Trigg O'Donnell (WTO) Partner Theresa Wardon Benz was honored on January 16 with the 2019 Richard Marden Davis Award. The prestigious award recognizes Theresa's outstanding service to the legal community and her civic and charitable leadership.
The Davis Award is presented annually "to that lawyer practicing in Denver, Colorado, who, although being under the age of forty, has already so combined excellence as a lawyer with creative leadership in the civic, cultural, educational and charitable activities of our community as to best exemplify the character and promise of Richard Marden Davis at that stage of his career." Theresa follows a long and impressive line of past winners, including those who went on to become judges and Colorado Supreme Court justices, leaders in law and business, and elected officials—even a former Colorado governor.
"Theresa exemplifies the innovation, grit, and commitment that embody excellence in the practice of law," said WTO Chairman Michael O'Donnell. "She is also an extraordinary advocate for those who need a voice in our community."
In selecting Theresa, the committee recognized her accomplishments in the law for sophisticated clients such as Ford, Michelin, and Whirlpool. The award also highlights Theresa's pro bono service. She has partnered with the Rocky Mountain Immigrant Advocacy Network to represent asylum seekers fleeing extreme violence in their home countries. She has served as a long-time board member and steward for The Gathering Place, Denver's only daytime shelter that serves women, children, and transgender individuals experiencing poverty and homelessness. And she serves as a mentor to aspiring lawyers such as her undergraduate mentee (a first-generation college student) who seeks to enter law school and matched with Theresa through the Law School . . . Yes We Can program.
A graduate of the Northwestern University School of Law and Boston College, Theresa joined WTO in 2009 following her clerkship to The Honorable Neil M. Gorsuch, then of the United States Court of Appeals for the Tenth Circuit. She represents leading companies in complex commercial, class action, and product liability trials, litigation, and appeals. Theresa has served on winning trial teams in Arizona, Florida, and Ohio, and she has briefed and argued winning appeals in the Colorado Supreme Court and the Colorado Court of Appeals. Recently, Theresa authored her first amicus brief to the U.S. Supreme Court, at the request of Sidley Austin and the Northwestern Supreme Court Clinic.
Theresa has earned recognition throughout her career. In 2019, she was named a 40 & Under National Star by Benchmark Litigation. In 2017, the American Bar Association named her among the top 40 young lawyers in its annual "On the Rise" list. These accolades echo the recognition that she received earlier on: 40 Under 40 (Denver Business Journal, 2016); Top Litigators (Law Week Colorado, 2016); and Up-and-Coming Lawyers (Law Week Colorado, 2012).
ABOUT THE RICHARD MARDEN DAVIS AWARD
Richard Davis' family, his law firm Davis Graham & Stubbs LLP, and the Denver Bar Foundation established this award in his memory in 1993, honoring his belief that great lawyers should be professional and community leaders. The award was created not only to recognize successful and committed young lawyers, but also to inspire other young attorneys to follow in his footsteps. For nearly 50 years, Mr. Davis tirelessly devoted himself to the legal profession and the community. He served as president of the Denver Bar Association in 1959 and played key leadership roles in philanthropic and arts organizations throughout his career.
For more information, visit here
Wheeler Trigg O'Donnell lawyers have taken more than 1,300 trials, arbitrations, and appeals to verdict, award, or opinion in 45 states and Washington, D.C., with exceptional results for our clients. Established in 1998, WTO currently numbers 110 lawyers. The firm represents sophisticated clients in high-stakes civil trials, appeals, and related litigation ranging from complex commercial to class actions to multidistrict litigation.