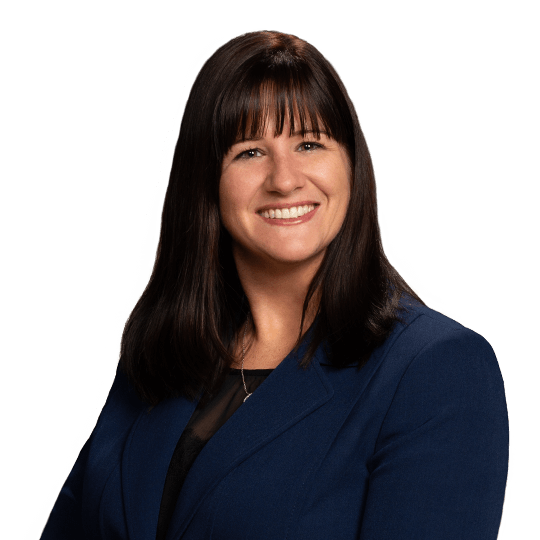 Jessica Goneau Scott
Partner
P. 303.244.1846
|
F. 303.244.1879
Practice Areas
Industries
Education
University of California, Berkeley - Boalt Hall School of Law

J.D., 2004
Order of the Coif


Humboldt State University

B.A., 2000, Major in Psychology; Minor in Criminal Justice, summa cum laude
Government Service
Bar and Court Admissions
Colorado
Montana
U.S. Court of Appeals, 10th Circuit
U.S. Court of Appeals, 6th Circuit
U.S. Court of Appeals, 7th Circuit
U.S. Court of Appeals, 9th Circuit
U.S. District Court, D. Colorado
U.S. District Court, D. New Mexico
U.S. District Court, E.D. Michigan
Representative Clients
Advanced Bionics - National Trial Counsel
CNA - National Trial Counsel for CNA Insureds
Ford Motor Company
USAA
Whirlpool - National Trial Counsel
Biography
Jessica Scott defends major companies facing serious class action threats nationwide. These include high-risk consumer class actions, misclassification cases (both independent contractor and joint employment), wage and hour cases, and FLSA collective actions. She serves as lead counsel and national coordinating strategist to a Fortune 500 company in its misclassification and wage and hour cases. Jessica also has significant appellate experience, including in the distinct area of punitive damages.
In addition to her class actions practice, Jessica has successfully handled a steady stream of critical appeals for her clients. She has served as appellate counsel in the U.S. Tenth Circuit Court of Appeals, the Montana Supreme Court, the Colorado Court of Appeals, and the Arizona Court of Appeals. She has won decisions for her clients in each of these.
Jessica has also argued and prevailed on numerous dispositive motions in state and federal court, saving her clients time and money by circumventing the need to go to trial. Additionally, Jessica has taken the lead on several large-scale mediations, all of which ended favorably for her clients.
Jessica has significant experience developing and implementing strategic plans for discovery in large-scale cases, including managing the collection, review, and production of electronic discovery for large companies. When faced with a new case or new challenge presented by a client, Jessica first discusses with the client its goals for the litigation and then works hand-in-hand with the client to develop the best strategy for implementing those goals and doing so with as little burden on the client as possible.
Jessica's notable results include a unanimous affirmance by the Montana Supreme Court for Ford Motor Co.; reducing punitive damages in an appeal in Arizona state court from an 8:1 ratio to 1:1; and, as second chair in a two-and-a-half week jury trial in a high-exposure insurance bad faith case, winning a full defense verdict for WTO's client in less than two hours of jury deliberations.
Cases
Defeated Rule 23 class certification of state law overtime claims in federal court in New Mexico for an international shipping company.
Defeated conditional certification of an FLSA and state law putative collective action in federal court in Ohio for an international shipping company.
Defeated conditional certification of an FLSA and state law putative collective action in federal court in Virginia for an international shipping company.
After just two days of trial in what was expected to be a two-week trial, obtained an individual settlement favorable to WTO's client and case dismissal.
Defeated certification of a putative class of individuals in California claiming WTO's client improperly classified them as independent contractors and also jointly employed them.
Defeated certification of two putative classes of almost 30,000 California claimants alleging that WTO's client was a joint employer and liable for a number of California wage and hour law violations as well as for benefits.
Won case-ending summary judgment for an international shipping company in a multi-plaintiff, putative joint employment case in state court in California. The plaintiffs sought overtime, meal and rest breaks, minimum wage, and other damages.
Defeated certification of a putative class of California claimants alleging WTO's client was a joint employer, seeking compensation for purported "off-the-clock" work. The California state trial court judge agreed with WTO's arguments that the plaintiff's "common" evidence did not show joint employment under California law.
Won motion to strike California Labor Code Private Attorneys General Act ("PAGA") representative claim in federal court for alleged meal break violations where WTO's client was a purported joint employer.
Successfully negotiated a nuisance value settlement in a putative class action for overtime wages in federal court in Illinois, before WTO's client had to incur any substantial fees or costs in discovery or for significant briefing.
Defeated certification of a putative class of 20,000 California claimants alleging that WTO's client was a "joint employer" and was liable for unpaid overtime and other wage-and-hour violations.
Won summary judgment for an international shipping company in a putative joint employment class action in federal court in Colorado.
Won Montana Supreme Court victory for a health system in a putative consumer class action that challenged its policy of issuing refunds in the form of pre-paid debit cards. The victory affirmed WTO's prior summary judgment win and defeated the plaintiff's new claims on appeal.
Defeated class certification in a bellwether case alleging false advertising of innovative self-cleaning ovens. The plaintiffs sought certification of a six-state class in the lead case and filed related actions for consumers in many other states. The court's certification ruling paved the way for a non-class settlement and dismissal of all actions less than a month before the first trial.
As national coordinating counsel, WTO implemented new strategy for a national transportation industry leader facing wage and hour claims in California. Thanks to WTO's approach, trial counsel in California filed and won a critical motion that will greatly assist in the defense of the case going forward.
Won dismissal with prejudice in a putative wage-and-hour class action in Kentucky. After defeating the plaintiff's attempt to obtain nationwide discovery against WTO's client, WTO then filed a summary judgment motion on the plaintiff's claims. Rather than opposing the motion, the plaintiff agreed to dismiss his claims with prejudice.
Serve as national coordinating counsel to a major transportation company in FLSA collective action and individual and class wage and hour claims.
Won summary judgment for a multinational corporation in a putative class action dealing with employment misclassification issues in New Mexico, thereby ending over two years of litigation. The court also denied the plaintiff's motion for class certification as moot.
Successfully opposed conditional certification of an FLSA collective action and won summary judgment against the named plaintiff.
Represented seven codefendants in a property insurance class action lawsuit in Colorado. Plaintiffs claimed they were systematically underinsured in a "monumental" conspiracy, in violation of federal RICO and antitrust laws, and involving virtually all property insurers in Colorado as well as industry trade groups. WTO served as liaison counsel and argued the successful motion for the fee award of more than $1.5 million.
Won Montana Supreme Court reversal of class certification against USAA in bad faith litigation and remand to the district court for further proceedings.
Successfully defended an insurer in an insurance bad faith and breach of contract trial arising out of the devastating Waldo Canyon wildfire of 2012. The plaintiff voluntarily dismissed one claim the morning of trial, lost another claim, and was awarded just five figures on the third claim after having demanded more than $1 million.
Won reversal of a 2013 jury verdict against Ford Motor Co. in a case that alleged strict liability and negligence relating to a rear-end collision in a 1998 Ford Explorer. The Court of Appeals concluded that the application of consumer expectation as a standalone test in Colorado's pattern jury instructions does not comply with Colorado law as established by the Colorado Supreme Court in Camacho v. Honda Motor Co. (1987).
Won Montana Supreme Court affirmance of a jury verdict favoring Ford Motor Company in a product liability case involving a fatal car accident.
Represented an international shipping and package delivery company in numerous arbitrations involving independent contractor classification.
Won a unanimous jury defense verdict in a three-week trial in Denver District Court for USAA. WTO lawyers defeated breach of contract and bad faith claims in connection with USAA's refusal to provide coverage for a roof on the plaintiffs' property. The jury returned a complete defense verdict in less than one hour.
Co-managed with one other law firm the response to requests from 418 dealers for arbitration relating to the bankruptcy of Chrysler Group LLC and following Chrysler's termination of those dealerships. WTO litigated 187 of these Section 747 arbitrations, and, as directed by Congress, resolved all of the litigation within seven months--with a 96% success rate.
Successfully settled three separate independent contractor classification matters in Colorado, including a certified class action and a mass action involving 83 plaintiffs.
Obtained dismissal of a plaintiff's class action complaint alleging false advertising filed against Whirlpool.
Defended an appeal to the Colorado Court of Appeals that affirmed the trial court's finding that WTO's client, Encompass Insurance, was not liable for the claims brought against it in an insurance case. Subsequently defended the award of costs to WTO's client.
Obtained a highly favorable non-class settlement in a putative, multistate class action involving Whirlpool-made wall ovens.
Defeated certification of a multistate class action in Arkansas federal court involving claims that certain Whirlpool-made refrigerators were defective.
Summary judgment affirmed.
Obtained affirmance of summary judgment on a previously undecided question of Colorado law.
Legal Memberships, Activities, and Honors
The Best Lawyers In America
Litigation - Labor and Employment, 2024
Benchmark Litigation
National Labor & Employment Star - Wage & Hour/FLSA Class Actions, 2021-2024
Future Star - Colorado, 2015-2018, 2021-2022, 2024
Colorado Super Lawyers
Class Action, 2022-2023
Law Week Colorado
Top Women Lawyers, 2021
Up-and-Coming Lawyers, Finalist, 2010
Colorado Rising Stars
Class Action/Mass Torts, 2010-2020
Defense Research Institute
Appellate Advocacy Committee
Tenth Circuit Reporter
International Association of Defense Counsel (IADC)
American Bar Association
Colorado Bar Association
Denver Bar Association
University of California Boalt Hall School of Law
Jurisprudence Award in Property, Criminal Procedure, & Evidence
Prosser Award in Contracts, Legislation, Legal Professions, & Appellate Advocacy
Moot Court Advocacy Award
Teaching Positions
National Institute for Trial Advocacy
Rocky Mountain Trial Skills Seminar
Instructor, 2011
Advanced Advocates Training Program for the National Organization
of Bar Counsel
Instructor, 2011
Personal Interests
Swimming, Colorado Rockies baseball, and high school football